Just like there are wardrobe staples every woman should have in her wardrobe, there are jewelry staples every woman should have in her jewelry box. Having a solid set of classic jewelry essentials can ensure that you always have the perfect accessory for any occasion. Then, classic pieces will, of course, look beautiful on their own, but they're also ideal base pieces for layered looks. So, having the right timeless pieces within your jewelry collection gives you the essentials you need for classic looks, but also the building blocks you need to experiment with your style.
There are many beautiful, classic jewelry styles for you to choose from for your jewelry box staples. But, in our opinion, there are some that are more timeless and versatile than the rest. So, below, we're featuring the six jewelry classics we think every woman should own. Each of these pieces is highly versatile, utterly classic, and absolutely beautiful-- which is just what every woman needs in her jewelry box. These pieces are also all excellent gift options, even for those with the pickiest of tastes. So whether you're shopping for your new jewelry box staples or for a gift that will dazzle a loved one, these jewelry classics are here to deliver.
1. Diamond Stud Earrings
Simulated Cushion Cut Diamond Stud Earrings
Diamond studs are a true jewelry classic. They're like the little black dress of jewelry: they're always stylish, elegant, and perfect for any occasion. Whether you're wearing jeans and a t-shirt, a ball gown, or office attire, diamond studs are the perfect accessory.
There are many styles of diamond studs for you to choose from for your collection of jewelry staples. But if you're looking for a more timeless look from your diamond earrings, we recommend selecting a classic diamond shape, such as round, cushion cut, or princess cut.
2. Stackable Rings
Simulated Diamond Eternity Band
Elegant and simple rings, like the simulated diamond eternity band pictured above, look lovely on their own, but they also add a lot of versatility to your jewelry wardrobe. By stacking simple rings in different ways, you can create new looks every day.
3. Initial Necklace
Delicate "A" Letter Initial Pendant With Simulated Diamonds
An initial pendant is a perfect everyday necklace. Initial necklaces are chic and stylish, and also add a personalized touch to every outfit. When you customize your initial necklace, you can opt for your initial, which is a fashionable and classic option. Or, you can give your initial piece a sentimental touch by selecting the initial of a loved one, such as your child, spouse, or grandparent.
4. Dainty Diamond Necklace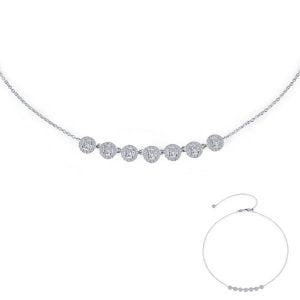 7 Symbols of Joy Simulated Diamond Choker
A delicate diamond necklace is a versatile piece that will add the perfect amount of shimmer to any look. When worn alone, a dainty diamond necklace is extraordinarily elegant. When worn as a part of a layered look, a simple diamond necklace can be modern, stylish, and fun. A delicate diamond necklace simply offers the best of both worlds.
5. Cocktail Ring
Checkerboard-Cut Blue Topaz and Simulated Diamond Ring
A cocktail ring is glamorous and gorgeous, and it can be a great way to pull your whole outfit together. Cocktail rings can add color, dimension, and contrast to an outfit in mere moments, instantly elevating it.
One of the best things about cocktail rings is that, though they're a classic jewelry staple, they're by-nature meant to be unique and bold. So, for your go-to cocktail ring, you can choose any eye-catching, colorful statement piece that speaks to you and your unique style.
6. Tennis Bracelet
Princess Cut Simulated Diamond Bracelet
Tennis bracelets have always been an evening wear staple. A diamond tennis bracelet is simply the perfect way to round out a special occasion look. Then, today, tennis bracelets are also a staple in more casual wear. Pairing a tennis bracelet with a casual outfit, like a sweater and jeans, is the picture of modern sophistication. So whether you're dressing for day or night (or need a day-to-night look), a tennis bracelet can add the perfect touch of shimmer and elegance to your ensemble.
Looking for even more beautiful, classic jewelry pieces? Shop our selection of elegant gold, silver, and diamond jewelry. Our expansive selection includes timeless jewelry pieces like diamond hoop earrings, gemstone stud earrings, pearl necklaces, pearl earrings, bangle bracelets, charm bracelets, and more.