Since the Middle Ages, certain precious materials have been associated with each anniversary year. For centuries, devoted spouses have gifted gold on the first anniversary, sapphires on the fifth anniversary, diamonds on the tenth anniversary, and so on. If you're shopping for an anniversary gift, deciding to gift one of these traditional precious materials can make your gift all the more special. Selecting one of the traditional anniversary gifts adds a layer of deep meaning to your gift, as it connects your eternal bond to a long history of romance, fidelity, and devotion.
If you're considering incorporating one of the traditional precious materials into your anniversary gift, read on. Below, we're going over the traditional anniversary gifts for each year, as well as providing some specific anniversary gift ideas to help you pick out the perfect gift.
1 Year Wedding Anniversary: Gold
Diamond and 14k Yellow Gold Bangle
The traditional one year anniversary gift is gold. You have many options when selecting a traditional piece of jewelry to gift to commemorate your first year of marriage, such as a delicate gold necklace, gold stud earrings, or a gold band that your love can add to their bridal set. One of our favorite options for newlyweds, however, is a gold bracelet, like the stunning pave diamond and yellow gold design featured above. A chic bangle crafted from gold is a more unique option, yet one that's still versatile and highly wearable.
Note that while yellow gold is the more common choice for the gold anniversary, white gold and rose gold are also tradition-appropriate options for the first wedding anniversary. So if your spouse prefers rose gold or white gold jewelry over yellow gold jewelry, a rose gold or white gold piece is also an excellent gift-giving choice.
2 Year Wedding Anniversary: Garnet
Genuine Garnet and Simulated Diamond Stud Earrings
The traditional wedding anniversary gift for the second anniversary is the gorgeous garnet. Garnets come in virtually every color of the rainbow, but the most well-known (and well-loved) hue for garnets is a rich, deep red.
Luckily for those who are shopping for their second anniversary gift, garnets are one of the most affordable gemstones. Since garnets are more affordable, the garnet anniversary offers an excellent opportunity to wow your spouse with a more glamorous piece of fashion jewelry (which you can do even within a small budget). Some ideas for bolder garnet pieces include a garnet cocktail ring, a garnet pendant necklace, or a pair of halo set garnet studs.
3 Year Wedding Anniversary: Pearl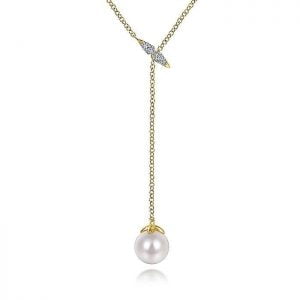 Diamond and Cultured Pearl Lariat Necklace With 14k Yellow Gold Chain
The pearl, the traditional third wedding anniversary gift, is classic and captivating, with its sublime iridescence. Some wonderful gift idea options for the pearl anniversary include pearl stud earrings or a pearl necklace. If you go with a pearl necklace for your third anniversary gift, you could choose a more traditional style, such as stranded pearls. Or, you could select a more modern gift, like the elegant lariat pearl drop necklace featured above.
4 Year Wedding Anniversary: Topaz
Genuine Pear-Shaped Topaz and Simulated Diamond Drop Earrings
The traditional gift for the fourth anniversary is the mesmerizing topaz. Like garnets, topaz gemstones come in a variety of colors. However, the most highly desired color for topaz gemstones is blue.
Topaz is very durable, so it's an excellent option for rings, earrings, bracelets, and necklaces. But we will say that drop earrings are one of our favorite ways to wear blue topaz, since this type of setting truly enhances this gemstone's beauty. For a colored gemstone, topaz has a high clarity and brilliance. A drop earring setting allows both the color and brilliance of the topaz gem to shine, as the gemstone will sway and catch the light with the movement of the wearer.
5 Year Wedding Anniversary: Sapphire
Simulated Diamond and Lab-Grown Sapphire Bracelet
The sapphire is the traditional gift for the first major milestone wedding anniversary, the 5 year anniversary. Sapphires have long been associated with love, truth, fidelity, and trust, so it's a particularly fitting gemstone to commemorate 5 successful years of marriage.
Sapphires are another gemstone that comes in a variety of colors, with the most popular being blue. Blue sapphires have a gorgeous, deep blue hue that makes them look especially stunning when set alongside diamonds, so diamond and blue sapphire pieces are highly desired. Diamonds provide a bright white brilliance that makes the deep color of a blue sapphire look even more luxe and lush by contrast.
One of our favorite gift ideas for the sapphire anniversary is a sapphire and diamond tennis bracelet, like the extraordinarily elegant design featured above. Other lovely options include a sapphire anniversary band, halo set sapphire stud earrings, or a sapphire pendant necklace.
10 Year Wedding Anniversary: Diamonds
Vintage Ribbons of Diamonds Engagement Ring Setting in 14k White Gold
Diamonds are the traditional gift given when couples celebrate a decade of marriage. Diamonds are a gift that's always adored, so you really can't go wrong when picking out diamond jewelry for the diamond anniversary. Whether you choose to gift your loved one diamond studs, a diamond pendant necklace, a diamond tennis bracelet, or any other type of diamond jewelry, their dazzling new piece of diamond jewelry is something that they'll treasure for a lifetime. With that said, since the tenth anniversary is such an important one, gifting an upgraded engagement ring or a diamond anniversary band is a particularly stunning and sentimental choice.
15 Year Wedding Anniversary: Ruby
Simulated Diamond and Lab-Grown Ruby Pendant Necklace
The traditional gift for the fifteenth wedding anniversary is the lush red ruby. Rubies, one of the four precious gemstones, have been treasured for thousands of years. Rubies are commonly associated with royalty, since they have long been a favorite of royals.
Rubies tend to look especially beautiful in antique or vintage style pieces, since they have a truly timeless sort of beauty. The simulated diamond and ruby pendant pictured above, which features a vintage-inspired floral halo setting, shows how breathtaking a ruby can look in a vintage style design. Ruby pendants like this halo set design are a lovely option for your fifteenth anniversary gift, as are halo set ruby stud earrings and glamorous ruby cocktail rings.
20 Year Wedding Anniversary: Emerald
Simulated Diamond and Simulated Emerald Half Eternity Band
Lastly, we have the traditional twenty year wedding anniversary gift: the emerald. Emeralds, famous for their unmistakable green hue, are luxurious and absolutely gorgeous. Emeralds look nothing short of spectacular when worn in any type of jewelry, whether they're set in a simple pair of solitaire studs or a lavish statement necklace. All emerald jewelry is beautiful, but emerald rings are an especially excellent choice for the emerald anniversary. As with the tenth anniversary, the twentieth anniversary is a major milestone. Gifting an emerald anniversary band is a beautiful, thoughtful way to commemorate such a special occasion.