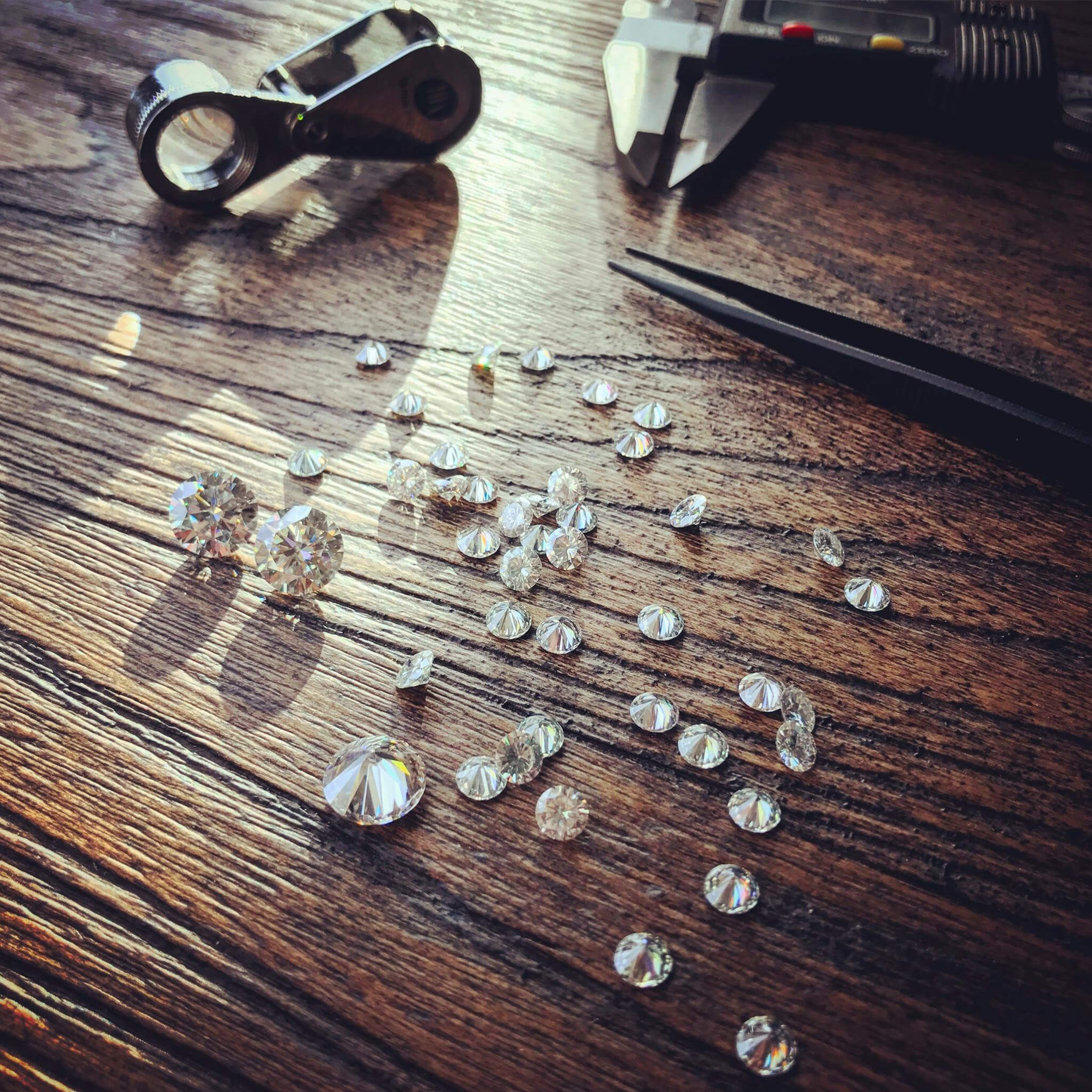 When purchasing fine jewelry, consider the product quality, guarantees, and available services – chances are, if they're a good jeweler, you have just established a valuable long term relationship.
Never buy a diamond based strictly on the grading certificate. Why? The gemological grades on certificates are far from being tight enough for financial comparisons. There can be dozens of combinations with equal grades where prices can vary as much as 40% – you don't have to take our word for it, you can go on any of the major online diamond sellers websites and see wide ranges in price for diamonds with the same exact specifications… so what's the catch? In our 25+ years of diamond experience, we have never bought a diamond without analyzing it in person – so why would you?
Give yourself the opportunity to physically see & compare a variety of loose diamonds. The differences between a F color SI1 clarity and F color VS2 clarity are nearly impossible to detect to the untrained eye. Why pay more for something your eye cannot see?
Not all 1.00 carat diamonds look the same – same goes with 2 carats, 3 carats, etc. For example, a 1.00 carat diamond for $3,000 will not look nearly as beautiful as a 1.00 carat for $6,000. By viewing diamonds in person, you can see what factors are going to be important to you. Make sure you're buying based on the diamond itself, not just the certificate.
Loose Diamonds never go on sale. If you go somewhere and they are on sale – consider that a red flag.
A good jeweler is going to be picky about the loose diamonds they carry. Their diamonds should stand out against the corporate chains or warehouse superstores. And generally speaking, their comparable goods will come at a better value as well.
Consider the intentions of the retailer you choose to patronize and spend your money with – are they a member of a local community that has to show face and provide value – or simply a company or corporation making sure their shareholders are happy with their profit margins?
You may or may not purchase another loose diamond down the road, but its important to find out what kind of diamond trade-in program a jeweler offers – if any at all. Read about the best diamond trade-in program in the Inland Empire.
Long term jewelry maintenance and repairs can become costly. Find out what kind of guarantees come with the jewelry you purchase.
Visit a local and independent jeweler – you'll be supporting your local community and getting more personalized service.
Have fun with it! If you're not having a comfortable experience, then you're not in the right place!
Serving South California Inland Empire: Azusa, Glendora, San Dimas, La Verne, Claremont, Pomona, Diamond Bar, Industry, Walnut, West Covina, La Puente, Covina, La Habra Heights, Whittier, Santa Fe Springs, La Mirada, Hacienda Heights, Rowland Heights, San Bernardino, Chino Hills, Chino, Ontario, Montclair, Upland, Rancho Cucamonga, East vale, Norco, Corona, Yorba Linda, Anaheim, Anaheim Hills, Brea, Fullerton, Jurupa Valley and Riverside.