There are plenty of traditions associated with a wedding day. The one most familiar to brides-to-be is the white wedding dress.
Ever since Queen Victoria wore a white wedding gown when she tied the knot with Prince Albert on February 10th, 1840, it has been traditional in much of the western world to follow suit. The vast majority of brides choose a white bridal gown.
While there is a vast choice of white dress styles, it can still feel limiting to be encased in that one color from head to toe. There is nothing wrong with wanting to inject a little of your style into your bridal look.
The way to personalize your look on your special day is with your bridal accessories and embellishments. When you go wedding dress shopping, don't just think of the dress but also your hair accessories and bridal jewelry. Make sure this is an integral part of your wedding planning and if you have one, talk it over with your stylist.
Here are some tips for finding the right accessories and wedding jewelry.
Match Accessories To Your Neckline
There are two major influences on your choice of jewelry to complete your wedding day look. They are how you are going to style your hair - an updo or loose - and the neckline of the dress. Women's bodies come in a wonderful variety of different shapes and sizes, and the range of neckline options certainly accommodates this!
Some of the most popular types of necklines are:
Sweetheart Neckline
As the name suggests, this neckline is shaped like the top of a heart, and it helps to accentuate the décolletage. It is also a wide and lengthening neckline that can help to create a look of balance if you carry your weight in your hips.
Halter Neckline
Halter necklines have straps that connect behind the neck, which creates the effect of a deep V that leaves a lot of your back uncovered.
Halter necklines can draw focus from your bust line up to your face, making them perfect for showcasing shoulders.
Straight Neckline
Again, as the name suggests, this is a straight high neckline that lays directly across the top of the bust.
Seen as a classic option for people of all body types, but most appropriate and flattering for women who have broader shoulders.
V-Shaped Neckline
Another straightforward explanation is a neckline that resembles a V on the chest!
The depth of the V is up to the wearer, with people choosing between traditional and plunging. It all depends on how much skin want to reveal, but in general, this is a neckline that elongates the chest and draws attention to the face.
Strapless Wedding Dresses
This is one of the most popular choices in wedding dress styles.
Strapless dresses take the issue of neckline away altogether, and in theory, you have much more room for the jewelry that you want to wear to make the look your own!
Once you know your chosen neckline, you can think about the accessories.
Finding The Right Necklace
Sweetheart Wedding Dress
If you want to keep things nice and simple with both your dress and your accessories, then choose a choker or a gold and silver chain of a princess length.
You might also want to pick a statement piece that is slightly less detailed, perhaps something like a decorative clasp to accompany your hairstyle. or a heart necklace. It adds simple glamour to your look.
Halter Wedding Dress
When wearing a halter neckline, the best thing to do is go without a necklace. The straps will cover up too much of the necklace. Instead, opt for a sparkling bracelet and a pair of statement earrings.
Straight Wedding Dress
A simple neckline can take elaborate pieces of jewelry. You should feel free to wear as dramatic a statement piece as you want to, anything from a dramatic collar necklace to a classy string of pearls.
V-Neck Wedding Dress
This neckline leans towards a more classy and formal look and is best matched with some more understated jewelry. Simple pendants that sit beautifully on the chest are the perfect thing to accompany the V-neck dress style.
Strapless Wedding Dress
There is plenty of skin to flaunt when you are wearing a strapless dress, so don't be afraid to pick out bolder pieces and necklaces that go halfway down your neckline to cover the free space. When you have lots of skin on show, the best thing to do is wear a lot of sparkles!
Finding The Right Earrings
Sweetheart Wedding Dress
Match your earrings to your necklace, in the sense that if you choose a pair of teardrop style earrings, then find a wonderful drop necklace to go along with it to create a sense of cohesion throughout the look.
Halter Wedding Dress
Skipping out on the necklace means that you have much more freedom to go for bigger and bolder earrings. A large pair of dangling diamond earrings should be the first choice for this dress style.
Straight Wedding Dress
The more simple the neckline, the bolder and more dramatic the piece you should be thinking about wearing. But be careful to find balance with a straight neckline, so if you are going for a bold necklace, then scale things back with a simpler style of earring.
V-Neck Wedding Dress
V-neck wedding dresses make every bride look taller, and you can even further enhance this elongation by wearing dangly earrings that continue the long-line illusion. Your sweeping updo will also look fabulous with statement earrings.
Strapless Wedding Dress
Because strapless dresses are the perfect partner for large, sparkly necklaces, you might want to tone things down with your earrings choice. A simple pair of stud earrings will be ideal to complete your look.
Consider A Bracelet
When it comes to bracelets, there are just as many different colors and designs as any other piece of jewelry. There are, however, a few rules that brides should keep in mind.
Make sure that you balance out your look and avoid a clash. Choose a bracelet that matches or complements your other jewelry.

If wearing a

halter

neckline

and skipping a necklace, take the opportunity to inject some sparkle with a

diamond bracelet

.

The more understated the

wedding gown

, the more elaborate your jewelry can be. Keep this in mind when considering things like elaborate sets of

bangles

and tennis bracelets.
Should You Wear A Tiara?
All the princesses wear them in the Disney movies, so why shouldn't you as well!? Nothing makes a bride feel more special on her big day than a stunning tiara!
This kind of statement headpiece comes in a variety of designs, styles, and sizes, but it is important to consider a few different things before deciding to include one in your bridal look.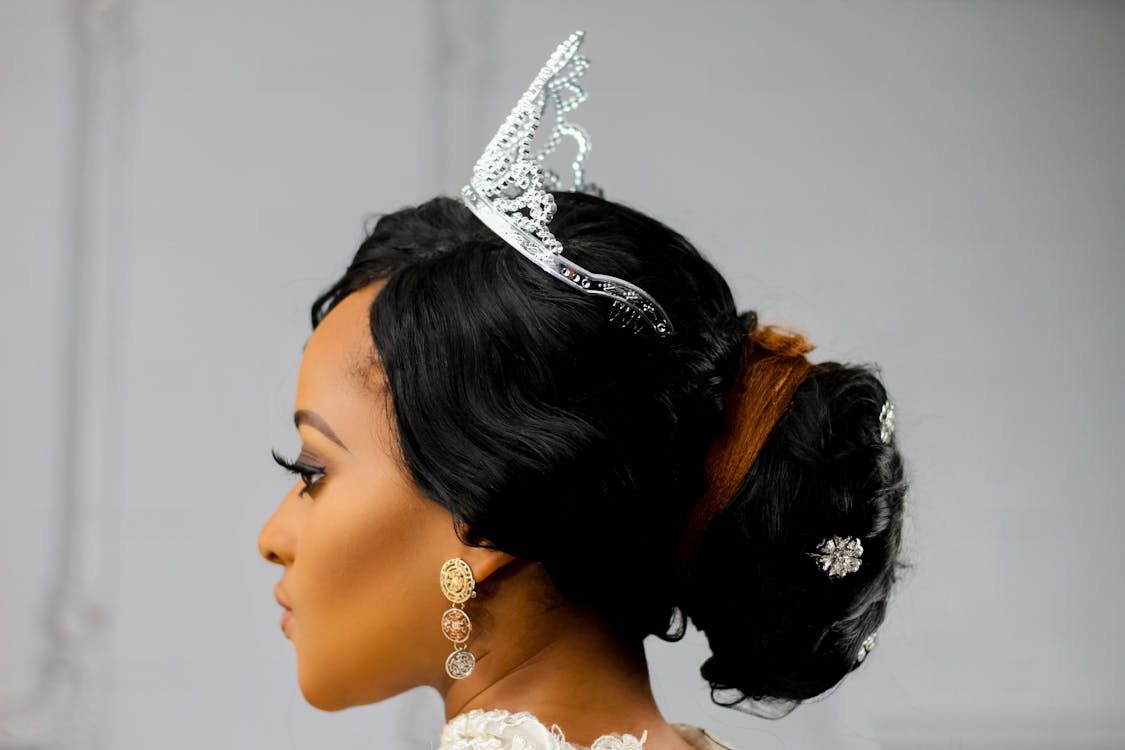 The first thing is to choose a tiara design that is opposite to the natural shape of your face, so for example, if you have long face, avoid anything too pointy that will further elongate your features.
There are five major styles of wedding tiara, and each has its qualities and characteristics.
This is the traditional style of tiara that you will often see real-life royal brides wearing.
This is a vintage-looking piece that works amazingly well with vintage dresses and classic jewelry pieces like pearls.
This tiara looks more like a classic headband, and it is most often made with materials like crystals and pearls. It's ultra-feminine and looks gorgeous with a flowing tulle veil.
This is a more popular option for a modern wedding look, as it can be styled and worn in several different ways.
Try To Match Your Metals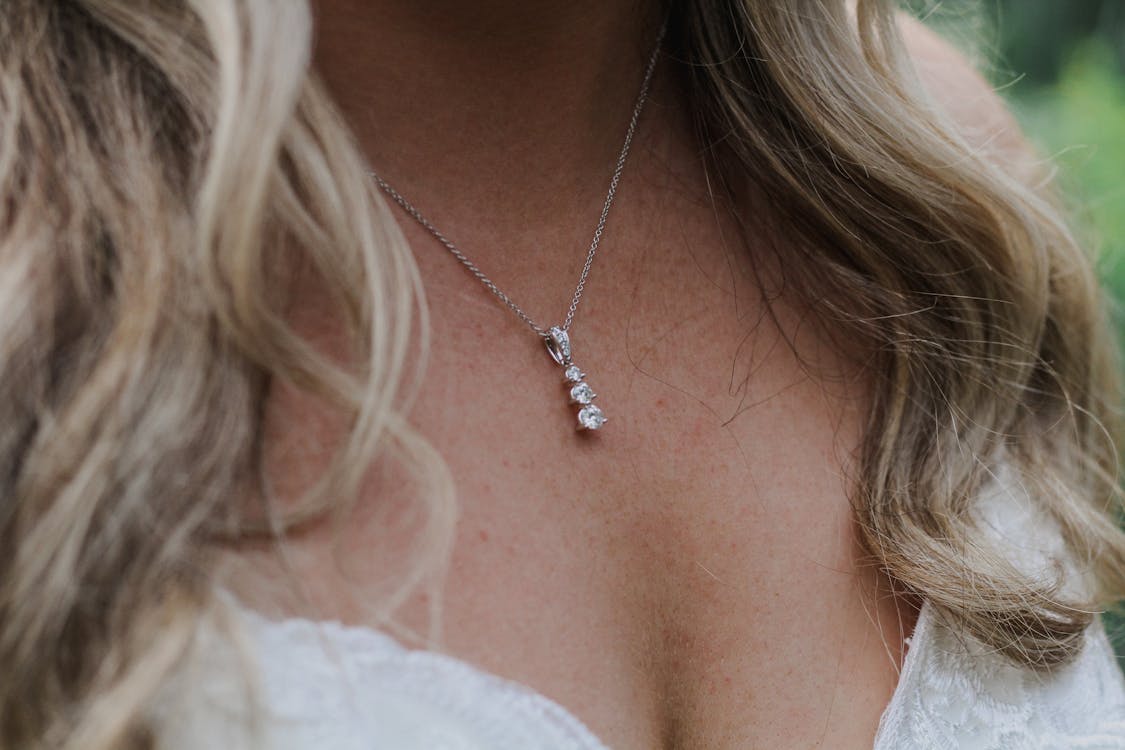 One of the most important rules to follow, no matter what neckline and jewelry you end up choosing, is to make sure that you match all of the precious metals throughout your look for maximum fluidity.
Make sure as much as possible that every single piece matches up, from your engagement ring to something as small as your hairpins!
If you choose white metal, you can mix sterling silver, white gold, and platinum but if going for yellow or rose gold, stick to one colorway unless you have a matching ensemble that combines the colors.
Don't Forget Your Something Blue!
And finally, don't forget to include 'something blue' to ensure that you have the best luck on your wedding day!
There are plenty of ways that you can incorporate a little bit of blue into your wedding look. It could be in the form of beading on your garment, it could be gemstones in a pair of delicate drop earrings, it could be pale blue threads used in your wedding veil, and it could even be a color that you choose to incorporate into your wedding shoes!
If you are currently on the hunt for the perfect wedding accessories that can be turned into the statement pieces of your bridal look, then look no further than all of the glam items that can be found at Diamond And Design. You never know, you just might find a few things for your bridesmaids too!