Custom Bridal Design
We offer custom design services and have created a five step process to make the vision of your dream ring come true. Our in-house custom design team allows us to keep a high level of detail throughout the process. We'll start this process by talking to you about what you're looking for and how we can help you achieve your needs.
Step 1
Narrow down your design by providing any images of the aesthetic you're hoping to achieve along with any desires about metal color, stone style, placement, and any other unique touches we can add.
Step 2
We'll set a budget for your design and give you guidance on how to accommodate accordingly. Our team will help you further develop your design choices to begin the first steps of production.
Step 3
At this point, we take a deposit to begin the design process which may take up to a full week to develop.
We'll generate a CAD image from multiple views and angles to help allow you to visualize the jewelry. The CAD will give us a very good idea of precise stone weight, weight, and size.
We can modify the CAD from this point until necessary to make sure you're happy with what is being presented.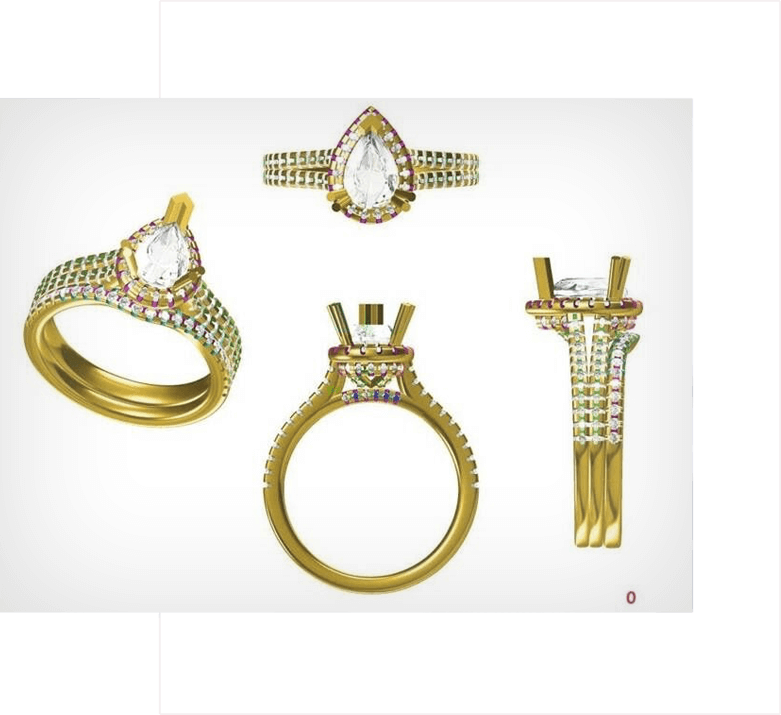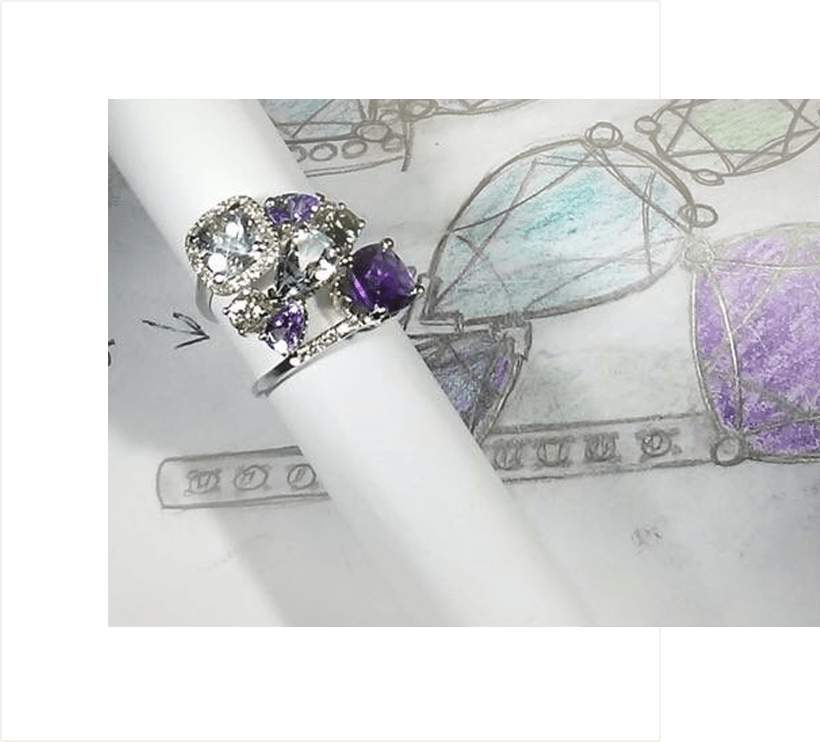 Step 4
We'll continue to modify the CAD if necessary until everything is flushed out and we're all on the same page. Once the final CAD is approved, we process the design for production.
Depending on a multitude of factors, generally it can take 2-4 weeks from this point to bring the ring completely to life.
Step 5
The final step in the process includes us putting finishing touches and examinations of the ring before finally releasing the finished product to our client!
Let's Get Started
Let's Get Started
Wedding Bands
Nowadays, there are more than just the traditional wedding band options available to represent your uniqueness. View some wedding band options and ideas below:
Wedding Bands for Her
Whether we do a matching band, a stackable set, or a completely custom design, there are more options than ever before when it comes to wedding band options.
Serving South California Inland Empire: Azusa, Glendora, San Dimas, La Verne, Claremont, Pomona, Diamond Bar, Industry, Walnut, West Covina, La Puente, Covina, La Habra Heights, Whittier, Santa Fe Springs, La Mirada, Hacienda Heights, Rowland Heights, San Bernardino, Chino Hills, Chino, Ontario, Montclair, Upland, Rancho Cucamonga, East vale, Norco, Corona, Yorba Linda, Anaheim, Anaheim Hills, Brea, Fullerton, Jurupa Valley and Riverside.