The engagement ring is usually the first really important purchase a couple makes. If you're proposing and making the ring a surprise, it's too easy to make the lead-up to the proposal a crazy time. If you're the prospective fiance, you can get caught up in the romance. Whichever your situation, you need to focus to ensure you get the perfect engagement ring.
It's not only a considerable expense, but an engagement ring is a special item of jewelry expected to be worn every day for a lifetime. Everyone needs some guidance whether you're shopping solo or looking for rings together. Here are the top 10 considerations for choosing an engagement ring.
1. Choice of Precious Metal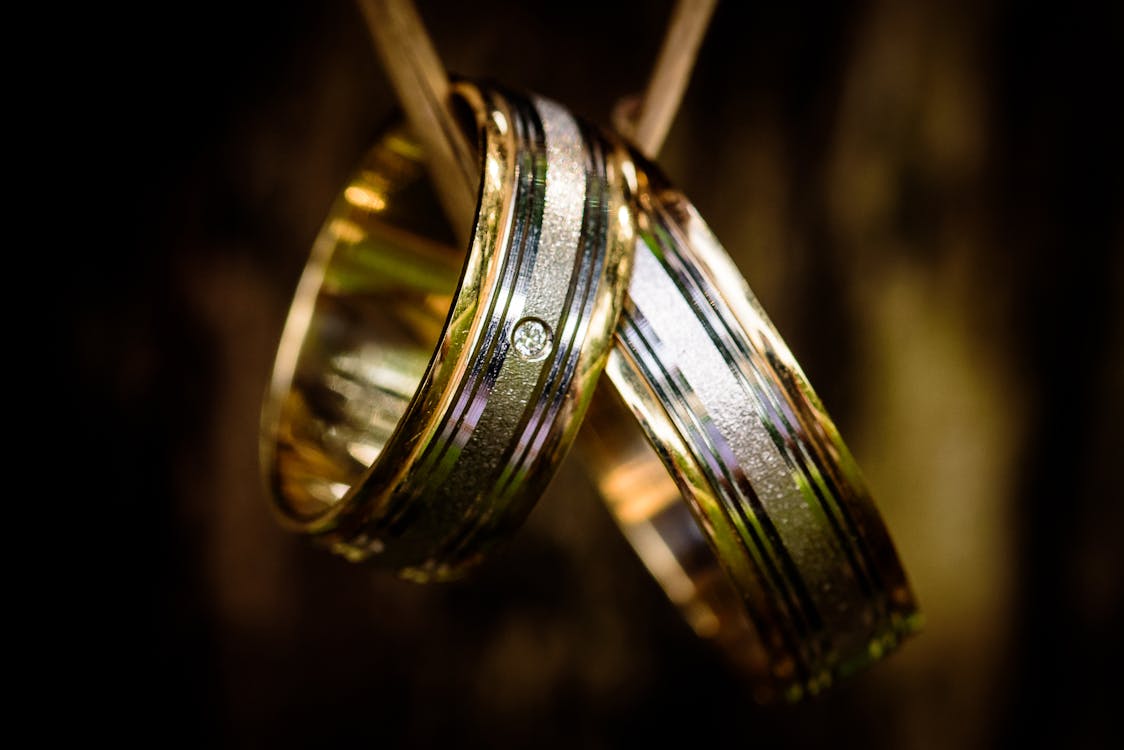 Even if your heart is set on a diamond engagement ring - and who doesn't cherish that thought? - think about the precious metal for the ring first. We start here because the choice of material for the band impacts everything from the overall cost to the finished look.
Even though modern engagement rings can be made from many different materials, precious metals remain the most common choice.
The precious metals are: yellow gold, white gold, rose gold, platinum, palladium, and sterling silver.
You might rule out some straight away. Sterling silver is perfectly acceptable if you're on a budget but requires more maintenance than the other white metals. It's also not so common to have sterling silver wedding rings. On the opposite end, palladium and platinum are more expensive. In general, fine jewelry made from platinum commands the highest prices. If you want to splurge and also appreciate the durability and low maintenance, platinum is the ideal choice.
It remains, however, that gold is top of the wishlist. Gold is more affordable than platinum and is the traditional option yet it can be worked into many different engagement ring styles and there's a choice of color.
Yellow gold - this timeless metal was the original choice for all engagement rings, in fact, all jewelry until the other colors came along. A diamond engagement ring in yellow gold is classic and traditional.
Rose gold - an alloy of yellow gold and copper, rose gold has a lovely warm pink hue that lends itself to rings that are romantic and feminine.
White gold - has the closest effect to platinum. The shimmery sheen is created by mixing yellow gold with nickel and then it is coated with a protective layer of rhodium.
The current most popular choice is white gold but you should make an informed choice based on color preference, budget, and lifestyle.
2. Choosing a Center Stone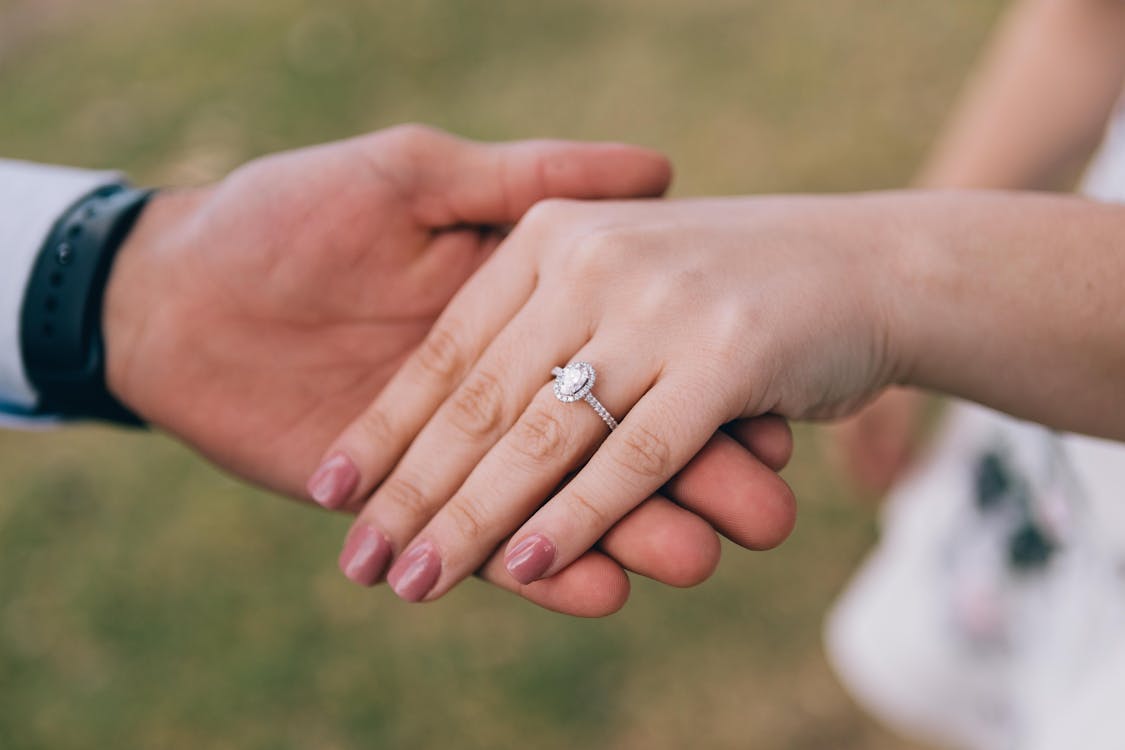 First off, let's just state that it is a common assumption that an engagement ring design is built around a single center stone - most usually a solitaire diamond. This has been by far the most popular choice for centuries but the modern bride has many, many more choices.
If you don't have your heart set on a diamond solitaire, you might choose a three-stone ring, a seven-stone engagement ring, or a band set with stones all around.
But, let's say you do want a traditional center stone. One of the most common FAQs jewelers have to answer is what diamond shape is best for a solitaire engagement ring.
There are numerous diamond shapes and they all have their beauty and allure.
The simple round diamond, a shape that has been around since the 1800s, is the top choice. According to the Gemological Institute of America, more than 60 percent of couples choose a round center stone.
You can however be inspired by other shapes. Thanks to the accessibility of social media, you can see an amazing array of different diamond shapes in celebrities' engagement rings.
Round cut - Mila Kunis
Oval-shaped - Hailey Bieber, Kourtney Kardashian
Emerald-cut - Jennifer Lopez, Paris Hilton, Beyonce
Pear-shaped - Cardi B, Ariana Grande
Heart-shaped - Lady Gaga, Anna Kournikova
Cushion-cut - Sofia Vergara
Asscher-cut - Pippa Middleton, Reece Witherspoon
Marquise-cut - Victoria Beckham, Catherine Zeta-Jones
Princess-cut - Megan Markle
Be aware that the size and cut (shape) of the diamond will influence its price. Choose the shape you love most and the one you'll be happy seeing every day.
3. Choosing a Setting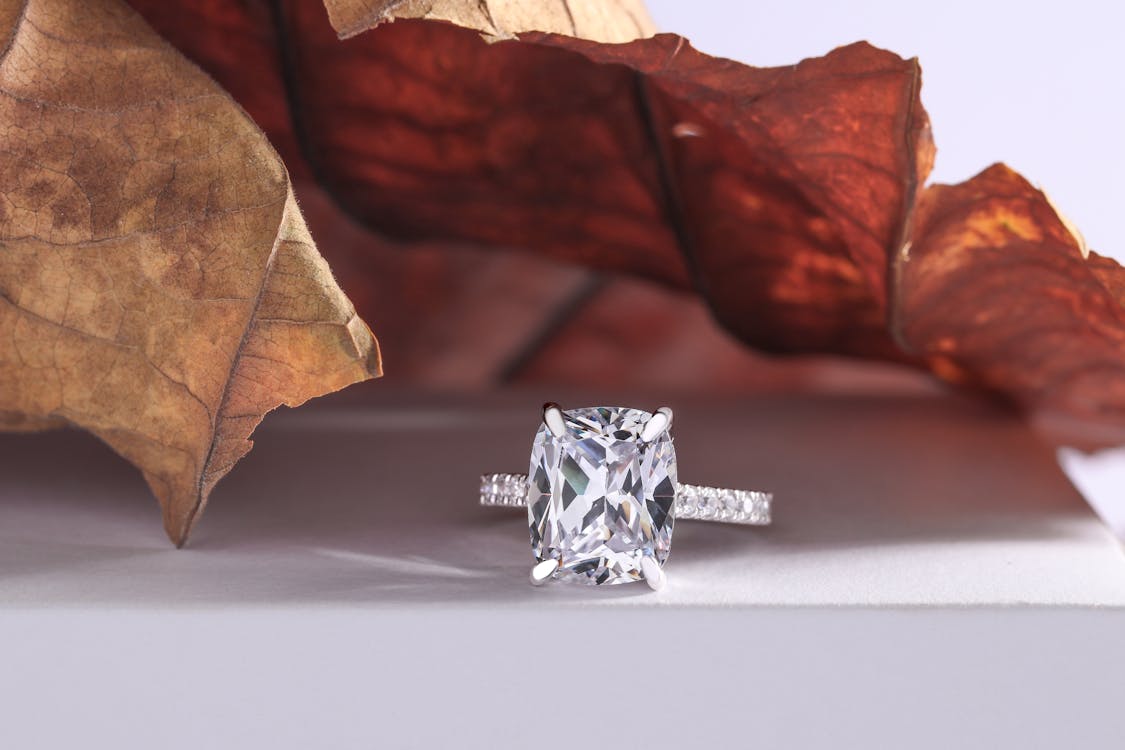 The setting refers to how gemstones are "set" into or onto the ring's band. It isn't ring-specific - all jewelry with a gemstone has a setting, including necklaces, earrings, and bracelets.
The setting influences how much of a stone is visible and the overall design of the ring and the choice of metal may also influence the kind of setting you can have, so it's a practicality that shouldn't be overlooked.
The setting may also be conditional to the shape of the stone you choose and if you want a center stone, a cluster, or a row.
We've already said that the most common choice is a solitaire diamond engagement ring and the most common setting for this is the prong setting. The prongs - typically four or six - lift the diamond proud above the ring. It creates the illusion that the stone is floating above the ring and maximizes the light that can penetrate the diamond to produce those all-important flashes that make it radiant.
An alternative to the prong setting is the bezel setting. This setting is considered more practical as security is a good choice if you put your hands through rigorous activity. Unlike the prong, the bezel encases the stone in metal so not so much of the stone is visible and it may reduce its potential brilliance and scintillation.
Another option is the channel setting. this is where the stones are flush or close to flush with the metal band. The stones are nestled against one another and not separated by prongs or bezels. It is common to see channel settings on the shanks of the ring in combination with a prong or bezel center stone.
The other most popular setting, which is more of a design than a setting because it can feature prongs, bezels, channels, or any combination of these three, is known as a halo setting. The halo is where the center stone is encircled by smaller stones. You might also opt for a double halo, where two rows are surrounding the center stone.
The beauty of a halo setting is that it adds security to the center stone as as well accentuating its brilliance and shine. It can also give the impression of a greater volume.
Halo stones can be of any gemstone. If you have a diamond solitaire, colored gemstones can be used and if you have a different gemstone as your centerpiece, diamonds are the perfect foil.
The most famous halo engagement ring is the one that King Charles III (then Prince of Wales) presented to Lady Diana Spencer. The ring is an oval blue 12-carat sapphire surrounded by 14 diamonds set in 18-karat white gold. The ring was presented to Katherine Middleton by Prince William on their engagement.
4. Deciding on the Carat Weight of the Center Stone
Carats are often misunderstood. Many think it refers to size when in fact it is a unit of weight with one carat being 0.20 grams. It also shouldn't be confused with karat which refers to the proportion of gold out of 24 parts. (24k gold is "pure gold", so, for example, 18k gold is 18/24 parts).
We covet heavier, larger diamonds more but the biggest constraint is budget.
It isn't just weight and size that determines the price of a diamond. Every diamond sold in the US should be accompanied by a certificate issued by the GIA that grades the stone on the 4Cs. The 4Cs are the aforementioned carat and cut, and also color and clarity. Within color and clarity, there are various levels from lower to the highest quality based on the depth of color and number of inclusions (flaws).
All these grades and scales enable you to make choices to find the best stone for your budget. For example, if you want a stone that looks bigger than it is, pear, oval, and marquise cuts have a bigger impact. You can sacrifice clarity and color for weight if you want a more showy ring. If you want more brilliance and shine, choose a smaller carat but better clarity.
In terms of cost, the price increases exponentially for each carat so you can't assume that a 2-carat stone is double the cost of a 1-carat stone. take advice from your jeweler who will be able to guide you to the best stone that maximizes your budget.
5. Does it Have to be a Diamond?
Just because so many other brides-to-be have a diamond engagement ring, doesn't mean you have to. You can pick any other gemstone. There are precious stones, semi-precious stones, and gemstones and you might even choose your birthstone.
Just some stones and colors are:
Sapphire

- blue

Emerald

- green

Ruby

- red
These are just the basic colors. The three precious stones above (along with diamonds) have a complete range of shades.
Add in semi-precious stones like amethyst, tourmaline, morganite, garnet, aquamarine, and pearl (to mention just a few) and there is a whole rainbow of colors that can be used in an engagement ring.
When thinking about a stone other than a diamond, you need to consider the durability of the stone, also known as hardness. Diamonds are 10 on the Mohs scale (the hardest) while the other three precious stones are at 9. Other stones are a lot softer, pearls especially, and will require extra care and maintenance. You also must ensure that any precious stone you choose has the relevant authentication certificates.
6. Choosing the Shank/Band Style
Although the focus usually falls on the stone and its setting, the ring's band will affect the overall aesthetic and should enhance its visual impact. You'll be pleased to hear there's yet another pile of options from which to choose - did we say it wasn't easy choosing the perfect engagement ring?
There are five parts of an engagement ring - prong, setting, shoulder, profile, and shank. We've already looked at prong and setting so now we turn our attention to shank types.
Plain shank - unadorned and can be flat or rounded
Tapered shank - the band narrows on both sides (the shoulders) where it meets the center setting. Can be engraved or set with stones, for example, pavé diamonds. A tapered shank can make the center stone look bigger.
Twisted shank - the band looks like a circle of twisted rope.
Split shank - the band parts with a visible gap as it reaches the center setting. It gives the illusion of a greater volume of metal to the ring.
Bypass shank - the two ends of the shank never meet but wrap themselves in a ribbon-type, fluid form around the center stone.
Cathedral shank - an architectural effect of two arches on either side puts a center stone on a pedestal making the stone look a lot bigger and more dramatic.
Knife-edge shank - creating the illusion of two or more bands, there's a sharp edge around the outer edge of the band splitting the shank in two. the two slanted sides meet to form a knife point.
Interlocked shank - this design is generally reserved for bridal sets. Instead of the engagement ring and wedding band being stackable, they are interlocked.
Then, there are the variations and mixes of any of the above: chevron shank, floral shank, shank with engraved shoulders, criss-cross shank, and free form.
The shank gives a distinct appeal to a ring design. It is also a way to incorporate specific elements into a ring, such as if you want a vintage-inspired ring, like an art deco design.
7. Set Your Budget
No matter what sort of rock you have on your engagement ring wishlist, stay realistic. It is not a good idea to start a commitment to marriage with a whopping debt. Balance what you can afford with the sentimental significance and work on getting the very best ring you can for the money.
Need some practical advice?
One longstanding tradition is the three-month rule. This is that you should spend three months' salary on an engagement ring. It is, however, becoming increasingly common to change the golden rule to two months' salary.
In the USA, the average spent on an engagement ring is $6,000 but people will also spend as much as $50,000. Plus, it's perfectly ok if you're one of the 10 percent who spends less than $1,000.
Be smart about your choices. the information provided so far should guide you in how to get value for money. It is often a case of giving and taking. for example, if you want a high-design, unique ring, you may have to sacrifice the size of the center stone,
One way to maximize your budget is to choose lab-grown diamonds over natural diamonds. Lab-grown diamonds are as good as mined diamonds (sometimes better) but at up to half the cost. Another alternative is moissanite.
8. Consider Form and Function
It might be one of the more boring aspects to consider when purchasing an engagement ring but it is vital nonetheless. We're talking about versatility and functionality.
These need to be thought about because most people intend to wear their rings all day, every day. It should, therefore, fit seamlessly into their lifestyle, just being a visual aspect of their personality.
for function, consider how the wearer's hands are used most of the time. Do they do a lot of manual work or dirty work? Do they work with machinery? These can drive the choice of metal, style of band, and setting. For example, a proud cathedral set solitaire is more prone to snagging than a channel setting.
How versatile an engagement ring is depends on the wearer. will it be part of a bridal ring set or just complementary to the wedding band? Does the wearer like a lot of jewelry and so it needs to be able to stack with other rings? It should also tie in with the wearer's general wardrobe or fashion style.
9. Will it Fit?
Along with making the right choice of ring, the biggest issue for anyone buying an engagement ring without involving their intended fiance is the ring size. It's not like a pair of shoes where you can simply take a peek inside to see the size.
When you book an appointment to view rings, the jeweler/sales clerk is going to inevitably ask for the ring size.
Of course, you want the ring to fit perfectly from the moment you first slip it on the third finger, left hand and this can only be achieved by knowing the exact size from a ring sizer. If you aren't involving your partner so they can try it on in-store, you need to find a way to get the best measurement you can.
Also, even if you are buying from an online store, before you checkout, make sure the retailer offers a free resizing service.
10. Who Decides?
There is a reason why more than 60 percent of modern couples shop together for an engagement ring, especially as there is an increase in both partners wearing an engagement ring and in the number of same-sex marriages.
Surprises are wonderful when the perfect ring is presented but when it's not quite right, not only can there be a disappointment but maybe some additional cost in exchanging or remaking the ring.
By sharing the process, you can avoid any issues of size, cost, or even allergies to certain materials.
Choosing the ring together means you aren't on a knife edge about making sure the choice matches their personality, likes, and dislikes because involvement means care and consideration.
Just like who you choose to spend your life with, the ring with which you want to propose is a crucial decision. You can still have the fairytale but keep it realistic. The ring is the beginning of a beautiful and exciting journey and deserves careful consideration.
Shop Diamond & Design Bridal Jewelry